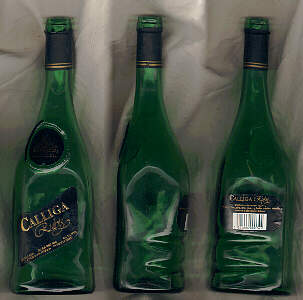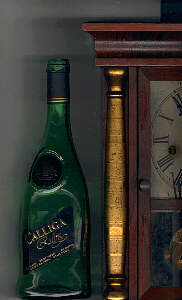 CALLIGA Rubis
Greece
1400 drakhmas = 28 FIM
At last a bottle I don't have to deform. Calliga Rubis makes you see an elderly and somewhat corpulent Greek lady dressed in her dignified black. The round buttocks adorn her respectable figure. All in her shape isn't what it used to be, but her presence still commands the eyes of others.
And Calliga's designer has endowed this pretty bottle with some nice and practical ideas. The right side of the bottle curves in slightly, just like a low waistline your hand fits nicely. And then your fingers slip into the grooves set below the buttock of our grande dame. You get a good grip of the robust bottle and it's easy to pour the wine into your glasses.
And those glasses should be on the table in time for the appetizers. Calliga Rubis has a clear and decisive taste, it's a lightish hors d'oeuvre wine. It will enlighten your table, if you are looking forward to a multi-course dinner. First come in the Greek salad (horiatiki), tzaziki, and the excellent egg-plant salad (melitsana salata) that, at it's best, tastes like a fine mushroom salad - and, of course, the fresh and tasty Greek bread. Horiatiki awaits our eager forks, the bread is ripped into pieces to be dipped into the tzaziki and the aubergine salad. After a moment we'll be handed the saganagi - a piece of hard cheese rolled lightly in flour, and warmed and softened in a pan brushed with butter.
Now it's time to pour our copulent lady into the glasses, and to say "JASAS!"