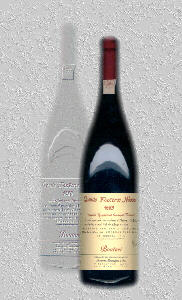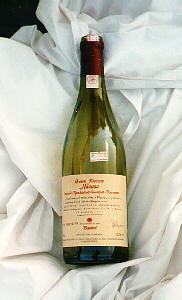 Grande Reserve Naoussa 1989, Boutari
Greece
1730 drakhmas = 34,60 FIM
Meanwhile you must have been getting hungry again. The appetizers were served already a week ago.
The main course will be roasted lamb's violin (that's the way we call lamb's hind legs). Tuning up the violin must take place on the previous day. The poor lamb will get several deep cuts in it's flesh to fit in the garlic. The violin will be soothed by spreading a sauce, made of soy and olive oil, garlic powder and black pepper, over it. The violin is left to rest overnight in a cool, but not cold, place.

Next day our stately instrument (must be an alto) will be put into a mild temperature in the oven for approx. 3 hours. Every so often we'll peek and see how it's tuning holds and help it with the sauce.
When the violin has reached the right key, it can be taken from the oven and wrapped in aluminium for 15-20 minutes before serving.

While inhaling the aroma of the oven, we'll have time to prepare tiny onions to accompany the lamb. First you boil the onions whole, then peel them and put them in a mildly heated pan with butter. Wait till they are golden brown. A drop or two of syrup is added. Prepare the onions so slowly that it takes the whole time the lamb rests inside the aluminium.
Hopefully something of the appetizers is still on the table. They are fine company to the lamb.

Calliga Rubis is set aside, and a bottle of Grande Reserve Naoussa 1989 that you've opened earlier is brought in. The Boutari family has cultivated it's xinomavro grape for more than a century. Grande Reserve matures first for two years in barrels and then another two in bottles before being sold.
Our full-bodied wine behaves very kindly on the palate, being a rather well matured 7-yearling.

After a sip of Metaxa, some coffee and a sweet honey pie, Grande Reserve can still excite you to social encounters in the warm evening.