Seventh (heaven) photostop: Crete 2011-10-01 to ->. Page 58.

Monday Feb. 6 - Kalyves and Hania.

ILIOS lost! Carnival postponed ;-) Music gained!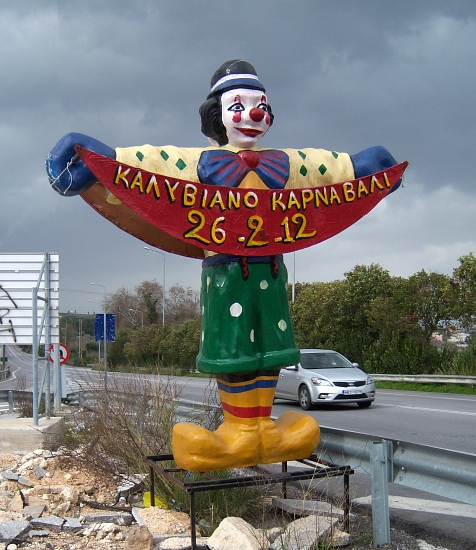 ---
This 3 m high Carnival Figure by the New National Road tells two things.
First that ILIOS is a scrooge! Last (few) days he has been exceptionally generous, but today he revealed his true nature again! Fortunately the (heavy) wind came from somewhere between east and south, so ILIO's scrooginess was not totally bad!
Secondly our minds tell us that the Carnival in Kalyves has been postponed by 10 days! We've reapetedly advertised that it'll be on Feb. 16. Excuse us for not being able to count to 40 - i.e. not knowing from which date it is 40 days till Easter. But anyway we'll be enjoying the Carnival, when it comes on Feb. 26!
---
In the afternoon we took a BUS (2.30 euros one-way) to Hania for many things. Special salted cucumber from the Moscow shop, Milli's ear cleaning lotion from a specialized veterinarian pharmacy, etc. came back home. One of the interesting things was also that we found two Haig Yazdjian's CD's (the master of the oud we enjoyed last Friday in Vamos).
Both CDs are fine, but somehow the intensity of music and rhythm was even better when Haig trioed live with Yioris Kiourtsoglou (bass) and Vaggelis Karipis (percussion). So we are very much awaiting their coming CD!
In addition to Haig's CDs we were also recommended a CD by Ara Dinkjian (also a master of the oud). A very good recommendation indeed!
---
The weather aftercast for today and last night in Kalyves:
No sunshine to speak of, overcast sky, rains, and very strong winds from south-east. Lightning and thunder in the evening. Not a nice prospect to think that ZEUS is taking the place of ILIOS because ILIOS has been such a scrooge!
Today's high in the shade +18.2°C. Last night's low +7.5°C.
---