Seventh (heaven) photostop: Crete 2011-10-01 to ->. Page 45.

Wednesday Jan. 11, 2012 - Kalyves.

ELECTRIC SHOCK.
The sky in Kalyves GOT CRUELLY ELECTRIC yesterday!

There was a large-area electric black-out which lasted only a short period. BUT it blew out our A/C HEATER, which in turn blew out our MAIN FUSE! Any attempt to get the A/C on resulted in the main fuse being blown out again and again!

Today Giorgos, our landlord, came with the electrician, Andreas, to try to fix the problem.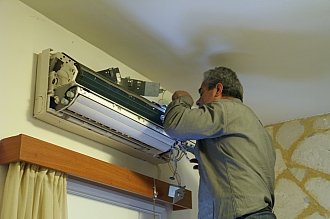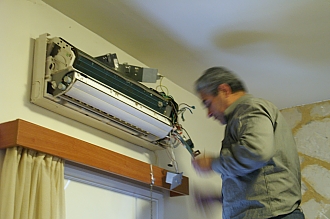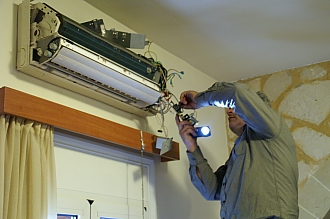 After almost 3 hours of work on both the A/C and the fuseboard, the A/C started to work again.
Let's hope this is a permanent (air)condition!
Thank you Giorgios and Andreas!
P.S. Lately the A/C has been starting to utter occasional deep sighs when working at full power. Could be a symptom that it should volunteer as an example in the studies of a qualified gerontologist!
---
The weather having been rather uninviting for going out lately, especially because Kiti is down with a flu, we've enjoyed the vast collection of DVD Planet's (owned by the friendly Spyros) movies. Yesterday we watched Seven Years in TIBET. Today we'll see Brokeback Mountain.
---
Before Brokeback Mountain we decided to have a short visit to a taverna, for a glass of kokkino krasi. Had an enjoyable conversation with a Swiss fellow living in Gavalo Horio. And a chance to show some craftmanship in how the fire in a tzaki can be maintained in the taverna, and not blaming the lack of fire and intruding smoke on outer matters! But coming back home, the electricity was again cut off! But the the lights returned rather quickly! And the A/C was in working order :)
---
The weather aftercast for today and last night in Kalyves:
Lousy weather all day! Rain and wind. Everyone we met was complaning it being poli krio !
Today's high +9.1°C. Last night's low +6.5°C.