Seventh (heaven) photostop: Crete 2011-10-01 to ->. Page 46.

Saturday Jan. 14 to Sunday Jan. 15, 2012 - Hania - Kalyves.

PRESIDENTIAL ELECTION.

On Saturday we performed our civic duties in Hania, and gave our votes abroad in the pre-voting of The President of Finland :) who is officially voted next week in Finland.

Irmeli, Mikko, Kiti and I drove to Hania to do our humble work in securing that the worst of all possible candidates will not be elected! Miss you Mrs. Tarja Halonen for your past 12 years of good Precidency!

ORANGES.

On Sunday we reminded ourselves that the ORANGES are now ripe here at the time of the Presidential Election in Finland, where snow, and below zero temperatures are beginning to be common - if there is no RAIN of WATER messing up the usual weather!

These oranges don't "come all the way from China" (thanks to Suzanne by Leonard Cohen) - but from all around us!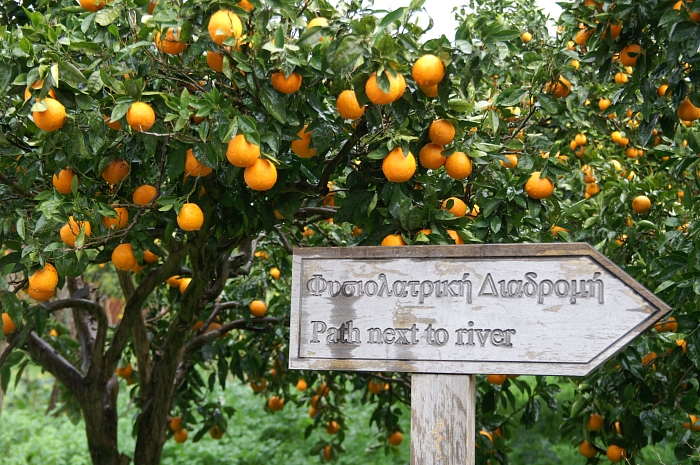 Especially in the beginning of the road to Stilos you just can't escape oranges, and there is also an interesting path leading through the orange area and following the river. Must make a point of going hiking there on a nice day!
---
On Sunday afternoon our dear Nikos was with us enjoying lasagne á la Kiti, listening to music, and having a most friendly conversation with us. That man is a treasure!
---
The weather aftercast for Saturday and Sunday in Kalyves:
Saturday: Lots of sunshine, also overcast weather, but very strong winds. Fortunately mostly from the south, giving warmer air, and calming the sea opposite us - facing north!
Sunday: Some sunshine! And other weathery stuff. Strong winds! Several sudden and very hard rainfalls coming from the west in the afternoon. Also a marvellous, fully arched rainbow starting from Souda and hitting the sea with it's other end just in front of Kalyves!
Today's high +16.5°C. Last night's low +9.5°C. Both not too bad!