Seventh (heaven) photostop: Crete 2011-10-01 to ->. Page 40.

Friday Dec. 30, 2011 - Vrises.

A daytrip with Irmeli and Mikko to Vrises. Hannu's objective was to find the pants. No luck this time either! But perhaps one shop will order some to Hannu's liking. But it was a reward to find a nice pair of new shoes in another shop! Kiti's aims were more than fulfilled. She found not only one, but two kettles to her liking - and for the price of one in Kalyves! An added bonus was finding a nice little miso kilo caraffe for wine.

Meanwhile Irmeli and Mikko strolled around taking photos and enjoying the visit to a village that was new to them!

Later we met for a tasty luncheon and conversation in one of the tavernas by the bridge.

And, having started the trip in light rain, it felt like we had brought the nice sunshine with us to Vrises - and even back to Kalyves!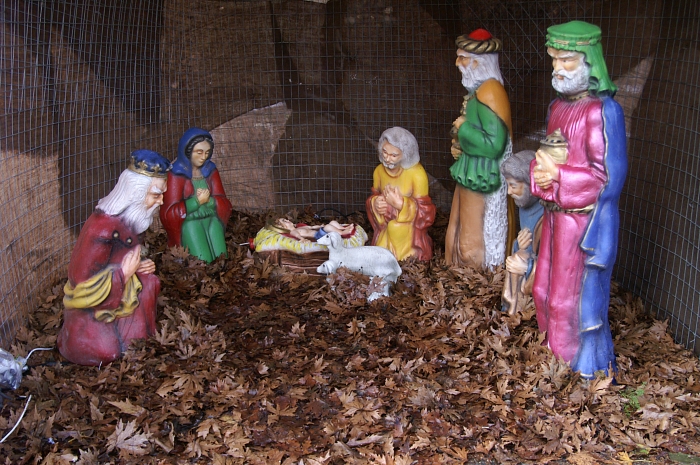 These quite familiar figures - especially this time of the year - were the first ones to greet us in the center of Vrises...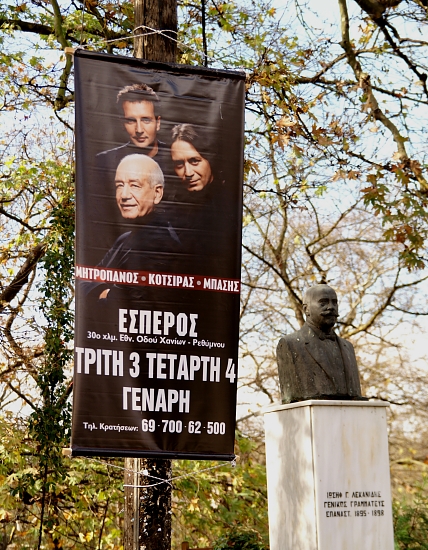 ...followed by other quite famous figures. Dimitris Mitropanos, the grand-old-man of Greek music (with two other musicians) looked at us in a poster advertising concerts in Rethymnon. The also famous man (name escaped us) in the statue seems now to be a bit below Mitropanos :)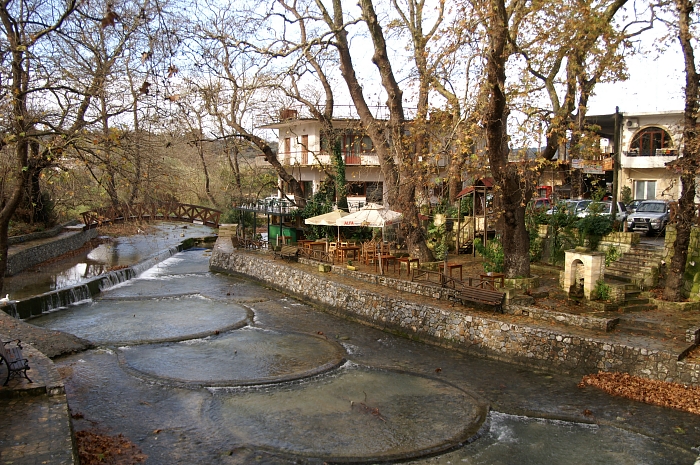 But the main attraction in Vrises is likely to be the river flowing through the center of the village.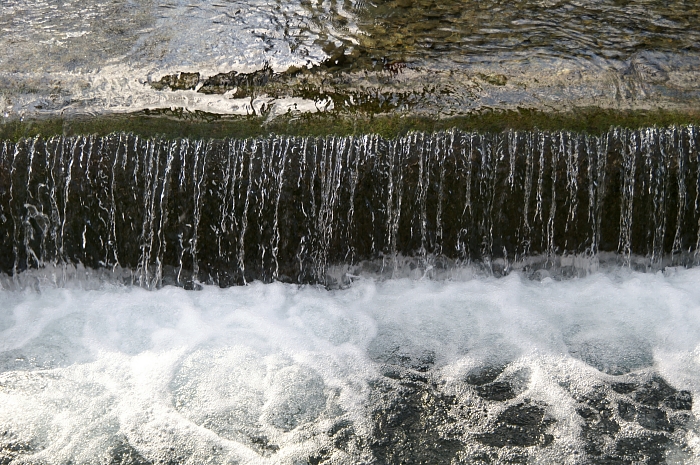 This year there has been more water in the river than we've ever seen before.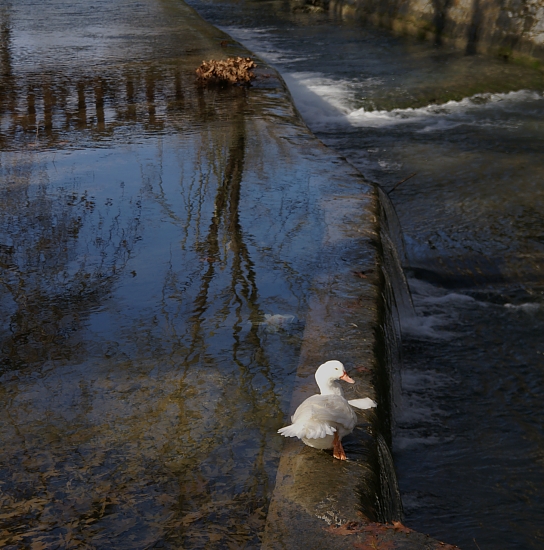 Birdlife is always a fascination in the Vrises river.
Could this one be a bit hesitating and thinking: Should I go or should I stay?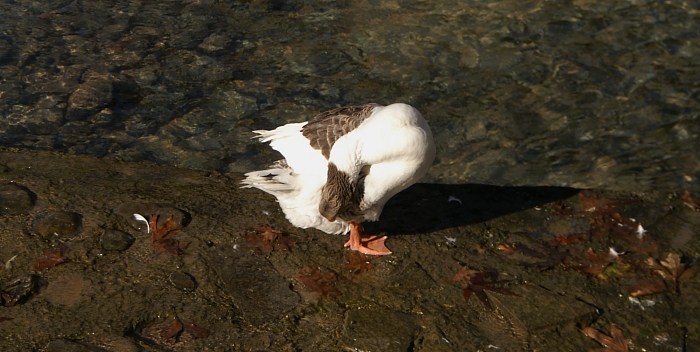 And it certainly requires a lot of agility to do the daily cleaning job!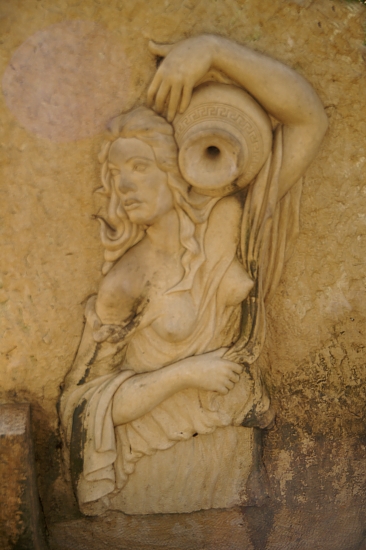 It's always interesting to see her close to the river's bank!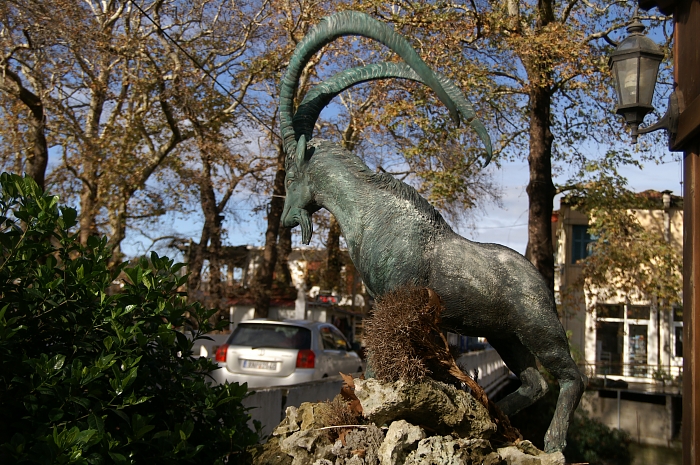 The KRI-KRI that has been guarding the bridge, and the taverna where we enjoyed luncheon, for a long time.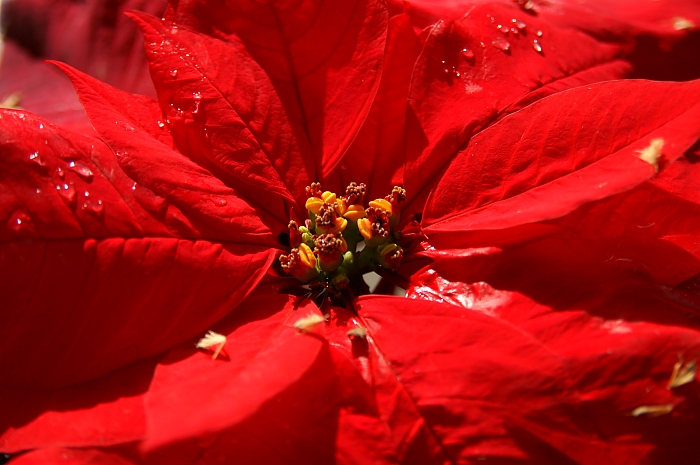 A typical flower inside homes during Xmas even in Finland. Here it grew in a pot out in the open, just outside of the taverna.
---
The weather aftercast for today and last night in Kalyves:
A cloudy morning with light rain starting before noon. Early in the afternoon the sun came out from hiding, and the sky had only some rather light clouds. A starry night.
Today's high about +18 to +19°C, last night's low +7.7°C.