Seventh (heaven) photostop: Crete 2011-10-01 to ->. Page 35.

Friday, Dec. 23, 2011 - Mesi and Kalyves.

Before noon towards Mesi to see Anna's and Olle's Milo The Puppy they got just a week ago. Well, ofcourse we wanted also to see Anna and Olle, and Anna's daughter and aunt :) and to deliver some Xmas gifts to our friends. But as any doglover can guess Milo was the center of attention. Our Milli was a bit confused meeting an eager puppy, who already seems to have the bark telling who's the master of the house!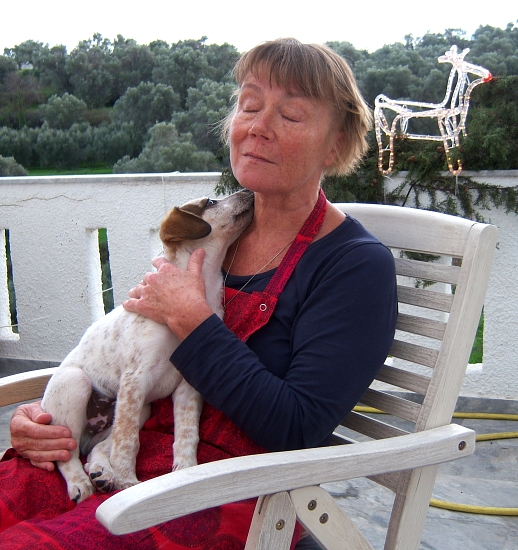 Milo, Anna and Rudolf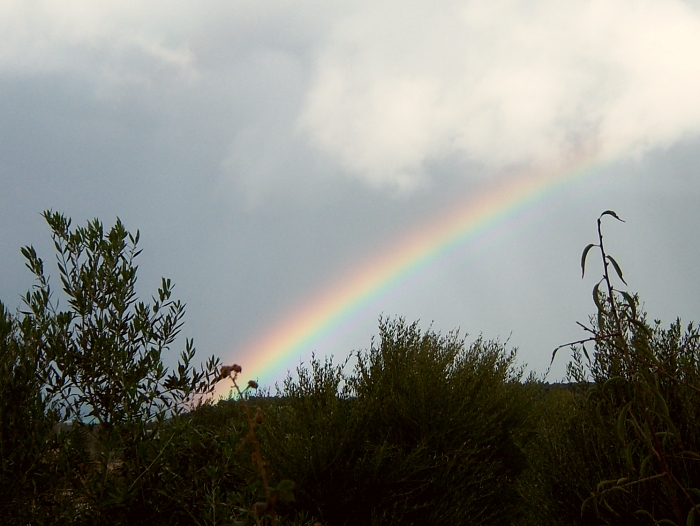 The rainbow, starting from somewhere in Rethymnon, we saw on our way back to Kalyves
---

When arriving home we had this nice surprise lined up and waiting for us by the gate! Fourteen oranges and three mandarines - and we suspect strongly that our elfman Nikos is behind this!
But who has taken the fifteenth orange ;)
---
The weather aftercast for today and the previous night in Kalyves:
A sunny morning with mostly clear skies - BUT that turned out to be a short lie by someone upstairs! By the time we came to Mesi, about noon, the sky was covered with dark clouds, and we could feel a cold breeze from the north. On the way back home it was mostly raining. The same type of weather awaited us in Kalyves.
Today's high +14.0°C, last night's low +6.1°C.