Seventh (heaven) photostop: Crete 2011-10-01 to ->. Page 33.

Wednesday, Dec. 21, 2011 - Kalyves.

First some more complaints ;)

We've now lived in our home for more than 2 and a half months. Now the house has almost gained a sustained warmth after having been chilled out all through the summer with aircondinioners set for 17°C. Warming up has taken us more than 2000 kg of olive wood in the fireplace or tzaki, and a lot of work. Cretans do not really understand what their winter, himonas, means to warmth inside a house, or to getting rid of moisture inside. And ofcourse we have slowly learned to wear outdoor clothes and shoes inside our home - like all Cretans who sit at homely dinners with overcoats on :). Perhaps, as winelovers, we'll eventually believe the back labels of wine bottles, stating that the wine should be enjoyed at room-temperature, meaning from +16 to +18°C ! Quite hard to Finns accustomed to +22°C all through the year, despite -20°C or +20°C outside. - And if I'm asked, wine starts to have real taste and bouquet when its temperature is at least +20°C !!!!
---
But to enjoyments:
Yesterday evening we went to Mythos for some supper. Nikos joined us. And that dear elfman promised us a Christmas tree to be cut for us !!!!!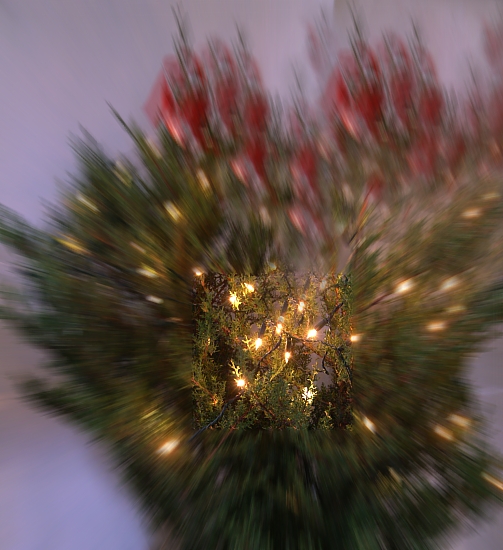 The little cypress Nikos got us this morning is scenting beautifully.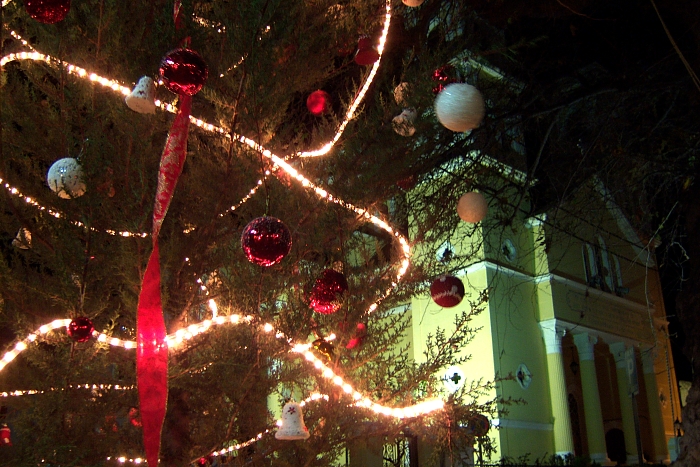 The official Kalyves Xmas tree with Paraskevi church in the background.
Yesterday we also reserved a table for Irmeli, Mikko, Kiti and Hannu in one of the most traditional tavernas in Kalyves for Dec. 24 to enjoy some bouzouki ! An exceptional evening to be expected!
Later today Nikos was with us at home for Kiti's sparagia soup - made of Niko's own wild asparaguses - and a very tasty tuna fish pie.
---
The weather aftercast for today and the previous night in Kalyves:
A calm, but not so warm morning. Mostly an ovecast day. In the afternoon Zeus throw arrows somewhere so far away that only the thunder could be heard. Meteorologically a dull day. Not warm, not cold, not windy, but a teeny-weeny bit of rain in the afternoon. Afternoon high propably +18,5°, last night's low propably +9°C.