Seventh (heaven) photostop: Crete 2011-10-01 to ->. Page 32.

Tuesday, Dec. 20, 2011 - Kalyves.

Milli's problems have made us to decide that she will always be carried up and down the stairs. But that means that the infamously and murderously slippery Cretan outdoor steps, made of polished stone plates, must all be dealt with first. Even a bit of moisture on those plates can be hazardous (and for some quite inconceivable reason the same plates are commonly used on pavements, too)! Perhaps beauty, and ease of sweeping, comes before reason!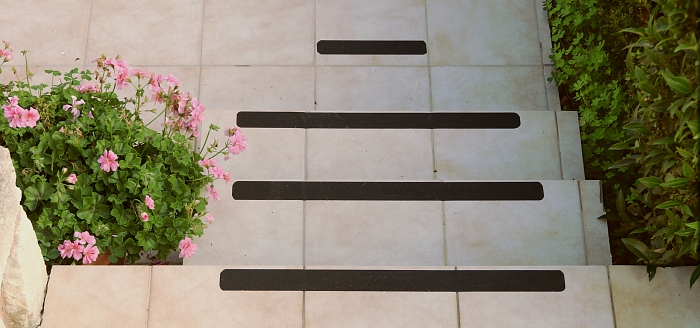 The last of the many outdoor stairs now have anti-slip tapes!
That was Hannu's all work on a quiet day. Kiti instead had some real work-work today.
Now that we've stated some complaints today and yesterday, let's get one more, constant, complaint off our chests. The maddening noise of the fighter planes flying low to and from the all too close NATO airbase makes it a tempting idea to live in a house where the garden might be plessed with some anti-aircraft artillery!
---
The weather aftercast for today and the previous night in Kalyves:
Yesterday evening's calmness changed again into a very windy day. Fortunately the wind comes now from south-west, so the sea up north is calm and is not making the day cold. Today's high +18.3°C, last night's low +10.5°C. There were some hours of calmer winds in the afternoon, but towards the later evening and night the wind gained more force. But at 22 p.m. the temperature was still +13°C.