Seventh (heaven) photostop: Crete 2011-10-01 to ->. Page 22.

Monday, Dec. 5, 2011 - Kalyves.

In the morning our dear landlords, Maria and Giorgios, came to finish their work with the olive harvesting - mainly to collect the cut branches.

Also in the morning our dear Nikos arrived to inform us that he has arranged a new delivery of olive wood to arrive on Thurday in the morning. We will always owe Nikos for his help and friendliness!

At mid-day Merja (with her fluent Greek) came over to help Kiti to explain a problem to Maria. That was very nice, because now that affair, involving the behaviour of a third person, is cleared and can be forgotten.

A bit later Hannu finished his two owner's manual translations on a new macro flash. Nice to do some work-work - occasionally :)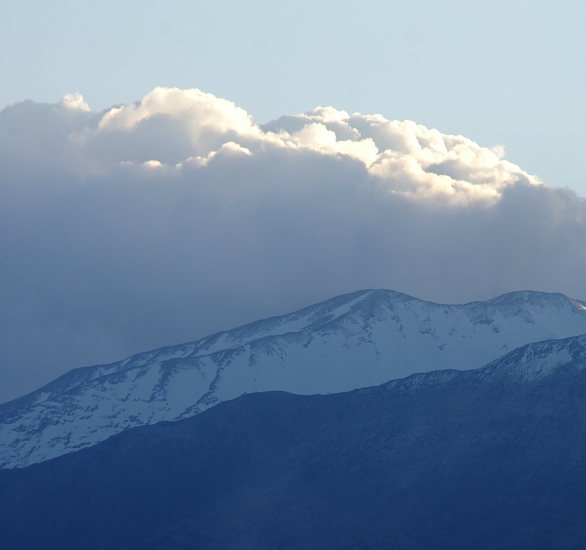 In the afternoon the clouds built a new high peak to Lefka Ori. Pachnes is definitely surpassed :)
In the afternoon Kiti also started to prepare her first skorthalia, because it's a big day tomorrow!
---
The weather aftercast for today and the previous night in Kalyves:
A very warm day with mostly clear skies. No wind. Afternoon high temperature +21.2°C in the shade, resembling +30°C on the veranda. Last night's low +7.1°C.