Seventh (heaven) photostop: Crete 2011-10-01 to ->. Page 13.

Monday, Nov. 21, 2011 - Dourakis Winery
Next Thursday, Nov. 24, Phil and Francesca Harrison have arranged a concert by Ross Daly, with Greek musicians, in the Dourakis Winery in Alikampos. Phil and the Dourakis family were kind to me by accepting my idea of showing some of my Ice & Snow photos there when the audience arrives.
So, I've had a VERY busy day planning the way my photos, and which ones, will be hung on the wall in the Dourakis Winery.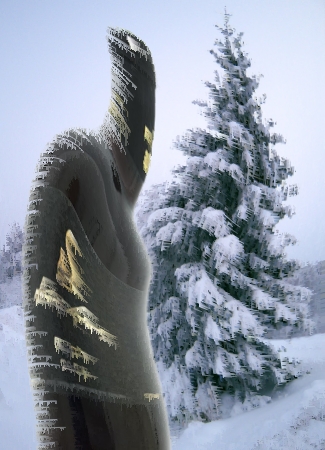 This Dourakis Syrah photo of mine has a background, the Finnish winter. My country's images of ice and snow are the subjects of the exhibition!
Tomorrow we'll go to Alikampos to finish the setup on the wall. Exciting!
Tuesday, Nov. 22, 2011 - Dourakis Winery
Today Kiti and I set out the photos in the Dourakis' exhibition room. The exhibition will be for one day only, Thursday, Nov. 24, opening at 7 p.m. And then in the Winery's main hall there will be a much awaited, and sold-out, concert starting at 8 p.m.
Very exciting to see the audience's reaction to my wintery photos!