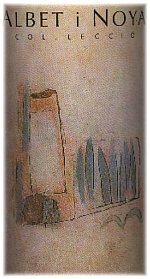 'SENSE TÍTOL' 1991
Tècnica Mixta 40x60
ÀNGELS ROMEU I ALEMANY
Sant Sadurní d'Anoia 1954

Texts & visuals
©Hannu
Lehmusvuori


Link of the Week:



El Celler Catala
Giving the facts
&
feelings
on
Albet i Noya
Paitsi että Albet i Noya tuottaa hienoja ja nautittavia viinejä ilman myrkkyjä, sillä on mainio silmä etikettitaiteelle!
Nyt, kun on viimeiset mahdollisuudet nauttia maailman hienoimmasta paletista, luonnosta, joka maalaa loputtomia variaatioitaan pallomme parhaasta teemasta, elämän kiertokulusta, tarvitsen jotain inhimillistä, joka löytyy tästä Ull de Llebrestä.

Haluan syvän ja ehdottomasti punaisen värin katsomaan minua lasista, kuin syksyn lehdissä, mutta tummempana, ja nuorekkaina, väräjävän sinisinä vivahteina.

Haluan ensimmäisen lasin ensimmäisten siemaisujen ensimmäiset ajatukset - paljastuksen yhdestä tämän viinin todellisesta puolesta. Sen tanakat tanniinit, ja selvän happoisuuden. Nyt ne on sanottu.

Kun pistän nokkani viinin pintaan, nenäni ei levene hyperlatiivisesti, mutta villit marjat, mausteiden hivenet & itse rypäle tekee nuuhkinnan miellyttäväksi sieraimilleni.

Pehmeät marjojen vivahteet huulillani ja kielen päässä aloittavat juuri avatusta pullosta alkavan matkan. Yhdessä tanniinisen / happoisen ensisuudelman kanssa, joka vielä pidättelee suun syvemmät kerrokset koskemattomina.

Toinen lasi paljastaa toisen totuuden: pehmeät mustaherukat ovat läsnä runsaina, yhdessä tanniinien & happojen kanssa. Ne saavat suun levenemääm pitkään maistoon. Viini alkaa kerätä itsensä siihen mitä vaimoni kutsui 'tiiviiksi'.

Tiivis läsnäolo ilmestyy suunnilleen toisen lasin lopuilla: runsas, pehmeä hedelmä tunkee yhä huomatummaksi, ja kiinteä, hyvärakentainen viini kovine aineineen (tanniinit, hapot) alkaa pyörimisen hedelmäytimen ympärillä. - Siitä alkaen viini on kokonaisuus. Kompleksinen kokonaisuus kypsytettävää hedelmää, ja kypsentämisen tekijöitä. - Valmistajan ennustus 2-10 vuoden mittaisesta hyötyolosta kellarin pimennoissa ei liene kovinkaan kaukaa haettu.

Kolmas lasillinen onkin jo pelkkää nautiskelua!
Besides presenting great and enjoyable wines without fertilizers, Albet i Noya have a remarkable taste for the label art!
Now that it's the last moment to enjoy the finest palette in the world, nature, painting it's endless variations of the best theme on earth, the cycle of life, I need a little something human that's in this Ull de Llebre.

I want the deep, and definitely red color to look at me from the glass, as in the leaves of autumn, but darker, and with the youthful hints of shivering with blue.

I want the thoughts of the first sips of the first glass: a revelation of one part of the real character of this wine. It's firm tannines, and noticeable acidity. So, those are there.

When I put my nose on the surface of this wine, my nose is not extremely broad, but the wilder berries, some spicyness & the grape make it enjoyable to my nostrils.

The soft berry tones on my lips and the tip of the tongue start the journey rolling with the first glass from a freshly opened bottle. Mixed with the tanniny/acidy first encounter that keeps the lower parts of my mouth still intact.

The second glass reveals another truth: the softer blackcurrants are plentifully present, with the tannines & acidity, broadening the mouth to a linger. The wine starts to gather itself up to what my wife called a 'compact presence'.

That compact presence comes at about the end of the second glass: rich, soft fruit becomes ever more noticeable, and the firm, well built, structure with the hard stuffs (tannines, acids) start whirling with a nucleus of fruit. - From there on the wine is a unity. A complex presence of maturable fruit, with the agents of maturing. - The label's prophesy of 2-10 years of profitable existence in the dark of the cellar is not far-fetched.

The third glass is simply for enjoyment!