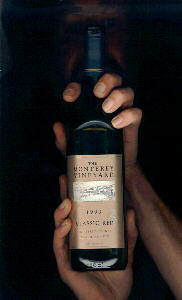 Monterey Classic Red 1993
Monterey, California
47,20 FIM
John Steinbeck's "Ystävyyden talo", the rock festival that will remain in the history of Monterey and maybe, in that distant past, rang out the first sounds of death that made the flower-power wither... and insufficient experience in the juices maturing in the California sun - for these reasons I turned my eyes towards the West Coast.
Classic Red is made of several grape varieties grown in the county of Monterey. They are fermented separately to produce the 1993 version that is mid-full in body, interestingly towards being a bit hard and at the same time yielding rather pleasant ticklings of the palate. On the whole a nicely untortuous wine fit for the easy-going events and to accomodate pasta and pizza or light meat.