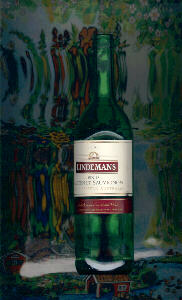 Lindeman's BIN 45 Cabernet Sauvignon
Southeastern Australia
49,50 FIM
I have titled one of my Finnish pages "Wine is for the wise". Right from the start of the alphabet my choice of words brings me shame. At this moment I mention only one Australian wine: Koonunga Hill. That wine deserves the whole-hearted praise it was given, but being the only mentioned wine from a whole continent, shows that the writer's wisdom is rather limited.
BIN 45's attraction lies in it's taste that is strong, softer and rounder than Koonunga's, a bit spicy and has a nice balance between the oak flavours and the full body of the wine.
The dignified label on this bottle is refresheningly diffrent from Kangaroo Red, but the lyrics of a funny, old hit keep coming into my mind: "...watch the kangaroo jumping / it's his latest finding..." (rather a "free" translation, I'm afraid).