Casillero del Diablo 1994
Viña Concha y Toro S.A.
Maipo Valley, Chile
50,00 FIM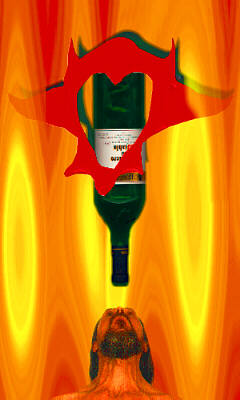 Finland and Chile are in some respects both very similar and quite opposite countries. By starting from Finland and going roughly south-west all the way to a likewise extreme location, but on the southern hemisphere, you can't escape the South of Chile.

Travelling on or above the surface isn't as interesting as the thought of drilling the same distance through the globe. After penetrating the world's oldest rock-base that is presently covered by ice and snow, you'll eventually reach the red-hot and melting core - the Hell Fires.

So, Finland and Chile are at the very extreme ends of the same Hell. Perhaps that is also the reason for opposing mythologies about intoxicating beverages. In Finland the Devil, the Souvereign Lord of the Moonshine Kettles, forces his intoxicating soups down the throats of the poor people in order to gain control of them. But in Chile even the Satan is different, except in his diabolical cunning. There it's said that Lucifer has made a fortress inside a wine cellar in order to make sure that under no sircumstances the poor human souls should lay their hands on the Dark Lord's most precious possessions.

A stingy Might that Devil. Surely an ordinary mortal could appreciate Satan's cellars' sauvignon. And being wise and cunning, Man gets to enjoy this red, slightly developed drink. It's scent hints to the dark forces and spices. And if the eye of the Lord of Hell is averted, Man gets to taste a wine that has medium full body, a good balance & posture, and a yielding nature.

Fortunately Chile's Devil has very little influence over his Finnish cousin. Our own Vaka-Vanha-Perkele has indeed been able to assure that the Chilean devil's soup is easily accessible, and at a price that is less than diabolical when compared to the quality.

Enjoy with warm thoughts.