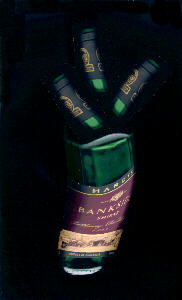 Hardy´s BANKSIDE SHIRAZ 1993
Padthaway Claire Valley, Australia
63,00 FIM
Hobbiton's BANKSIDE wine cellar was devastated in 1905 (by hobbit count) by the brutal and insane attack of Saruman. The wines made of the best harvest of shiraz in the history of Bankside boiled in the hellish flames lit by Saruman's desperately retreating troops.
Only one bottle holding it's noble contents was found in the smoking ruins. Apparently (while Gandalf's spells were cooling the last flames) a miracle happend. The deformed bottle that was rescued from the ashes had gained three times it's normal power. Every one of it's three necks yielded a full bottle of rich and slightly spicy wine that was praised by everyone who was permitted to have a taste.
But the origin of the tar in it's bouquet raised a dispute that continued well into the next millenium among the hobbits. Some of them claimed strictly that Saruman's fire should be seen as the unintentional plessing of evil that caused the characteristics of the bouquet, but the other party seemed to remember much earlier times when Bankside's shiraz had always had a strong hint of tar.
During all the years at harvest time both parties were unanimous in wishing that the grapes in their hands would yield a wine as excellent as the famous BANKSIDE Shiraz.
One persistent rumor was also connected to the fire. It was claimed that Saruman had managed to rescue a whole case of wine. The same information also claimed that Saruman had stored the wine with utmost piety for 2-3 years, and that he then enjoyed a wine that was even more noble. Someone even argued that Saruman had opened the last bottles no less than 12 years after the fire and that he was known to have remarked that he had drawn the longest straw after all. He had even bosted that only he, but no hobbit, had tasted the very best wine in Hobbiton.