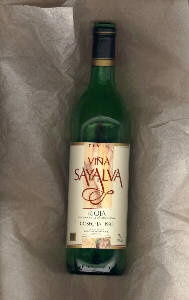 Viña Sayalva
Rioja, Spain
42,60 FIM
This wine is a part of my interest in the tempranillo grape. But we are not dealing here with a 100% tempranillo since the wine has 10% of otras uvas, i.e. other grapes.
Many of the tempranillos I know and appreciate are either moderately or richly full-bodied and their aroma has been enhanced by maturing the wine in oak casks. But Sayalva is different: a light and fresh wine of the 1995 vintage which gives you hints that it could develop further. In a wine so young at the moment, it is surprisingly pleasant to find such a nice variation of taste. Yet the winemaker recommends Sayalva to be enjoyed while it is still young.
Because of the hottish week (33) the bright afternoon lighting and a direct view were the crucial criteria to have Viña Sayalva as the choice of the week.