Seventh (heaven) photostop: Crete 2011-10-01 to ->. Page 42.

Sunday Jan. 1, 2012 to Thursday Jan. 5, 2012 - Kalyves and Mesi.

Slow times. But fortunately Nikos over for a dinner on New Year's Day. Our Elfman was, if possible, even more the warmhearted man than he always is. Great moments listening to Leonard Cohen and Dimitris Mitropanos, feeling music, and talking about past, important, persons.

Also many more warm visits by Nikos when he was passing our house going to his farma for olive harvesting or to gather horta.

A short trip to Vrises, but the shop with a possibility for having pants to Hannu was closed. A short moment in the taverna Kapri - the same we visited with Irmeli and Mikko.

Some enjoyable moments with Irmeli and Mikko. The speciality was the secret confiscation of some white pepper :) Kiti needed it desperately, and it was available from Irmeli's secret source :)

Our portable CD player broke it's contract with us! But we got a good, not pricey, CD-DVD (and everything) player from Linarakis - a very nice shop for household electronics right in the center of Kalyves. Now we can not only listen to music, but also to see all the Aki Kaurismäki movies we brought here!

An all too short moment to see Giorgios Vrionakis who has recently returned from Norway, but will go back there on Wednesday.

Many important phonecalls and messages to and from Finland about a dear person.

Nikos has continued his warmhearted visits.

Dimitris, our closest Cretan neighbour, brought us a nice load of olive wood for our tzaki.

Electricity in our house broke down because of a problem in the living-room's airconditioner. Maria, our lady-landlord came swiftly over with her eldest son, Giannis, to see what the problem is. A very warm meeting with both of them. They arranged for an electrician to come over with Giorgos, our man-landlord, later in the afternoon. Since the problem concerned the airconditioner, not overall electricity, they decided that an A/C expert should fix the problem next day.

A nice dinner in Il Forno. Schnitzel Gordon Bleu, a huge tray of garlic bread, miso kilo kokkino krasi, and another miso kilo on the house by Giorgios! Thank you Giorgios and Stella!

An important, warm phonecall from Lassi. About the same affair that Lari sent a touching message.

Many warm wishes to Milla! Hoping that you can cope with all the sorrow, troubled mind, and all the burdening practical affairs.

A very enjoyable afternoon and evening in Mesi with Anna and Olle. And we had Irmeli and Mikko with us. A lovely, soft, airy SAUNA, a good meal, and good conversation - as always! Also Mikko and Irmeli were seemingly enjoying. But Milli had her doubts about Milo The Puppy :)

Upon returning home we found that our airconditioner/airpump problems had been solved (again) while we were away! And now there is also fire in the tzaki, and the new CD/DVD player is giving us Jani Malmi's KOSKETUKSIA !
---
The start of the year 2012 - Kiti's Calendar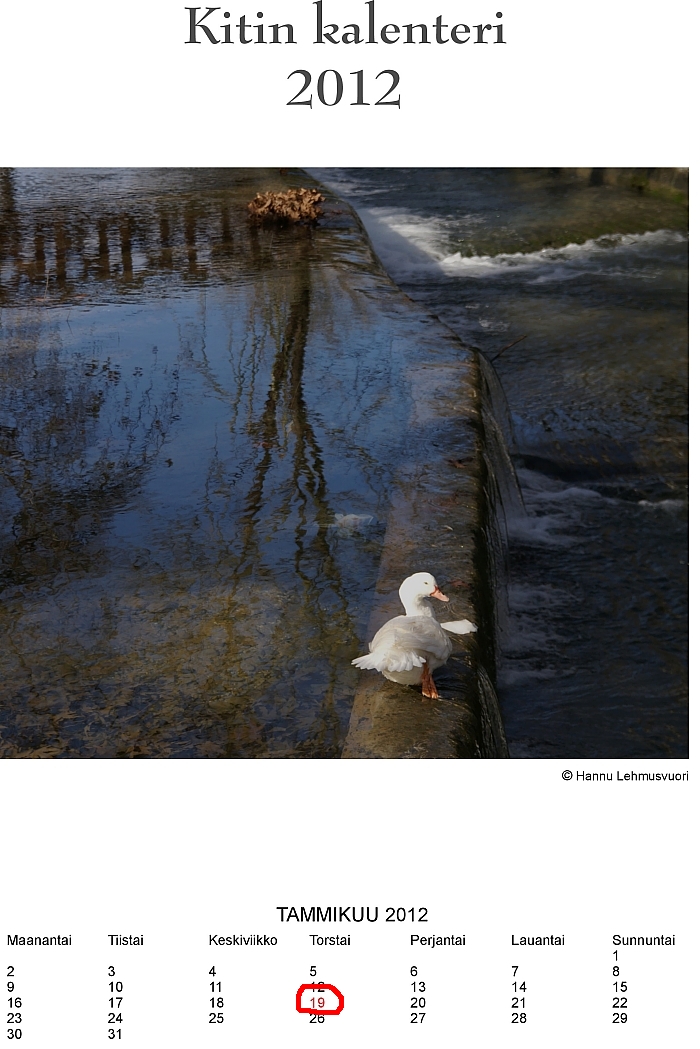 There seems to be a special day on Jan. 19!
---
The weather aftercast for previous days and nights in Kalyves:
The entity governing weather here has continued to suffer the bi-polar personality disorder. But the same person seems to be somewhat on the way to recovery. If the forecasters are believed there will be (at leat occasionally) some sunshine and warmer days.
The forecasters were right at least for Wednesday and Thursday. Both nice, sunny days!
Period's highs during the day from +13 to +18°C. A record low during the night between Monday and Tuesday, +2.5°C.