March 20, 2007 till next entry

A trip to south of Rethymnon, to Plakias (which seems like a very touristy place somehow resembling Chora Sfakion, but lacking something). On the way back we really liked to take a side-trip to Sfinari by taking a right turn to a mountinous road from a village above Plakias. The road opens great views...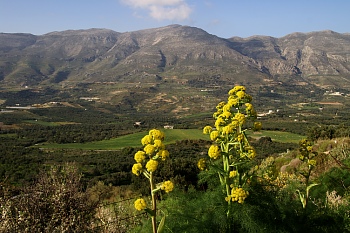 Ferula communis - jättiläisfenkoli eli ferula (FIN)

...first to a pleasant valley...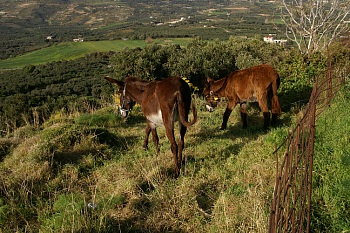 ...and then to pleasant, but timid animals above the valley.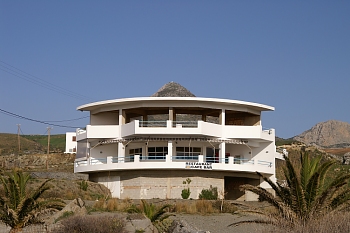 At the far end of the scenic road one comes down to this.
But the real treat is behind the photographers back. It's the marvellous little bay with a sandy beach that must be great in the summer.
We do not want to reveal it to you, so that you can go and see and experience it yourself.




Fesula communis surrounded by Phlomis fructiosa - Jerusalemin salvia eli pensaspaloyrtti (FIN)

On the way back towards Rethymnon we enjoyed also the other side of the road looking like this...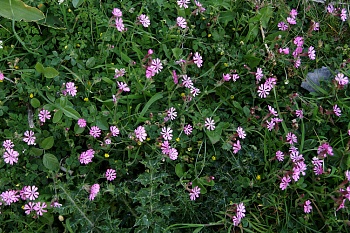 A species of Silene - kohokki (FIN)

...and like this.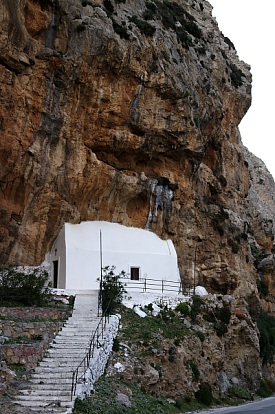 It's hard to notice this little church if you are driving down south, but on the way up north it suddenly pops up into your view.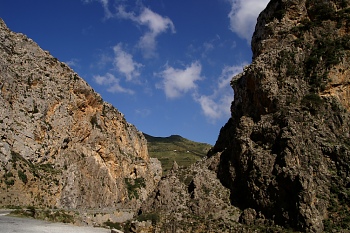 Excuse us, but we've been telling a reverse and hidden story.
The most interesting view, a real surprise in its magnificent beauty, opens up, when you are coming down thru the passage in the picture (moving towards the photographer's back).
You must experience how Kourtaliotiko gorge opens up as a surprise when you drive from north to south along the road from Rethymnon to Plakias!


---

Weather report
(Whenever possible, don't miss a chance to listen to Wayne Shorter's, Joe Zawinuli's and Jaco Pastorius' band by the same name! - Who was the percussionist?)

This day, as quite many previous ones, has been warm and sunny. Something in the +20oC range in the shade.
But this night is really a surprise. It's now 25 minutes past mid-night, and the temperature is about +19oC !

After writing that we went to sleep, unaware that on March 21, at about 4 a.m. we would wake up because the mild and warm breeze from the south had turned into a wild windstorm breaking one of the wooden windowshields upstairs, banging fiercely on closed windows and doors, and throwing furniture around the patio.
Not much sleep that night!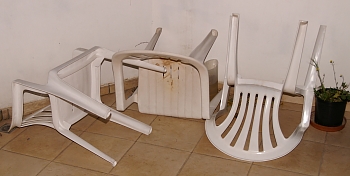 This is the way the winds decided that our outdoor chairs should be!

The temperature today has been well above +22oC, and the hard, occasionally frightening, wind has continued. The air is not gray, it is rather like an eerie and dull milky white, and the visibility towards Lefka Ori (in our south) is poor. This must be a Sahara storm we are experiencing, coming over the mountains, and the air propably has a lot of sand grains in it.

If we now were to go on a walk along the roads with orange trees nearby, our record in the number of oranges picked from the ground would very likely be in jeopardy. (Our present high is 22 during a short walk!)

It's now 3.30 p.m., and Kiti is finally taking a little nap after a sleepless night. The wind seems to be calming down a bit, at the moment. The temperature is +22.2oC.

At 5 p.m. the air in the Lefka Ori direction is getting more and more gray, hiding the mountains. The weather looks ominous!

The Sahara stormwinds seem to have been rather locally concentrated to the Kalyves area (this time). Friends in Rethymnon and Chania reported much milder experiences. And the local people in Kalyves (ofcourse) have taken the circumstances as a phenomenon that comes every spring, and means that we are now expecting the red rain bringing down all the sand in the air.

Now at 8 p.m. the air is still and warm, the sky is heavily overcast with either sand or clouds (hard to tell in the darkness), and there is a certain anticipating feeling that another musical allusion is in place: PRINCE and his Purple rain. But we hope that our allusions to music do not become as powerfully true as they were in episodes 2 to 4 in this diary.
Or perhaps the allusion points in the direction of Bob Dylan and Hard rain?

The weather forecast says that bad or uncertain weather will continue till Monday (it's now Wednesday)!

And now that we've written on and pondered on this storm/rain thing at such great lenght, perhaps even Gene Kelly and Singin' in the rain might be considered as an allusion to future events.

The dice have been cast, and the whoever can make a choice: from Weather Report's stength to Gene Kelly's joviality, with Prince and Bob Dylan somewhere in between (B.D. perhaps closer to W.R.).

March 22 brought the red rain. It has been more or less the Gene Kelly kind, so far.
Temperature +14.3oC at noon.


[ If you see only this frame, click here to see the complete diary ]