March 13, 2007 till next entry

Annaleena and Olle have returned - JOYOUSLY - from Cuba!
A very enjoyable afternoon and evening with them in our abode. A warm day. Talking, dining, and seeing many photos from their honeymoon in Cuba. The rocking-chairs, the old Chevys (and others), the oxes, the landscapes... And our Olle and Annaleena on their own, too...
And a very special treat from them: three marvellous CD-records with Cuban music! They make anyone's joints move!
Not to mention the gift to Kiti: a necklace made of Cuban seeds, suiting her perfectly.
And, ofcourse there were those authentic cigars!
And Annalleena's beans á la CUBA !
And a very special thing: the Cuban wine, from SOROA!

Those newlyweds saw and heard Omara Portuondo and Eliades Ochoa live in CUBA ! And even shook hands with senor Ochoa ! (PERKELE ! - that's expressing honest envy in Finnish, in this context.)
And enjoyed (PERKELE !) kilometers upon kilometers of white sands on beaches, just to themselves!
Not to mention some other (PERKELE !) enjoyments they had!
It's so good to have you back on Crete!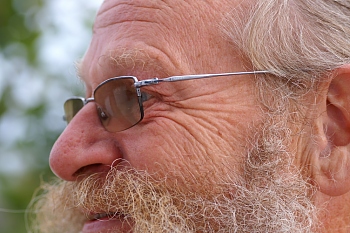 Here's Olle. We are sure to capture Annaleena, too!

[ If you see only this frame, click here to see the complete diary ]