From Jan. 4, 2007 till next entry

Nikos invited us to a, once again, superb supper in his home.


---

Jan. 5, 2007

Annaleena and Olle in our house for a dinner, and a long discussion.
On the table Kiti's nettle soup and moussaka á la Finlandia plus an enjoyable Ag. Triada wine from the monastery up on the hill in Akrotiri.
And the extra pleasure of a bean soup and sparagia salad Nikos had given us to take home yesterday - to be praised by our guests today.


---

Jan. 6, 2007

Inkku and Pekka were kicked out of the house they had agreed to be renting till late February!
On a day's notice.
The Greek-Finnish family had found a more favourable deal to rent the house.
Incredibly rude behaviour towards elderly people, and not mitigated by helping them to find reasonable lodging in a nearby hotel.


---

The same Jan. 6, 2007 revealed also the day for blessing the sea.
Seemed like a big ceremony in Kalyves' Paraskevi temple, with a lot of villagers being eager to be touched by that plant in the priest's hand & willing to kiss the cross in the priest's hand. And the blessed water was most eagerly wanted - in small or large containers.

The ritual continued in the harbour of Kalyves.
The priest tossed the cross into the sea - not once, not twice, but thrice! So that many of the competitive youngsters, who have to dive to bring the cross ashore, would have a chance to become winners of good fortune for this year.


---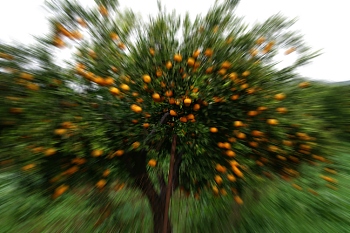 Now this island is so pregnant with oranges, lemons, citrons...that they shoot at you - for you to pick the over-abundant ones that fall on this earth before being harvested.

Jan. 8, 2007

Our guardian spirit, Valeria, in our abode for dinner that lasted from 7 p.m. till midnight.
Once again sincere conversation.
On the table a taste of Kiti's nettle soup, then a bigger portion of Kiti's mushroom-garlic soup, some tasty lamb casserole with basmati rice, and finally Kiti's famous "surprise-surprise" dessert. And one should not forget the raki we've been trying to re-make by seasoning it with honey, cinnamon, etc...
Valeria brought us a very tasty wine called INO !
CLICK TO READ AND SEE MORE
ABOUT THE WINE!

[ If you see only this frame, click here to see the complete diary ]