From Dec. 17, 2006 till next entry

A trip to Kournas Lake & Kournas village

Some fifteen years have passed since our previous visit to Lake Kournas. A lot seems to have changed since then. Last time we came to the lake almost by accident, because then the big road towards Iraklion simply led us to the very shore of the lake. And because we are Finns, and come from a country with about 60.000 lakes, we were ofcourse thrilled to see one on Crete. The number of lakes on Crete can propably be counted with the fingers of a Finn's one hand.
And as lakes go, Lake Kournas would not be called a lake in Finland. Those meters in width and lenght would be called a pond. But Lake Kournas has its special appeal because of being at the foot of those mountinous heights. And because it's not really a lake at all, with rivers leading to and from it, but an overgrown spring owing its size to the location at the foot of the hilltops.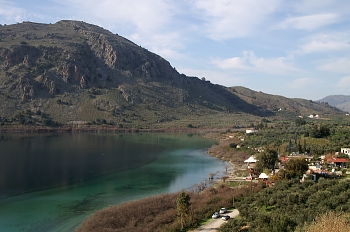 So, what has changed? The old road leading to the shore of the lake is now full of tavernas and souvenir shops, and the new road goes passing by further up with maniacs on wheels. At this off-season moment Lake Kournas is a Sunday attraction to Cretans - with its (too) many tavernas. It's understandable that it is exotic to Cretans, but otherwise the lake is a disappointment. A lake where one would not even imagine to be swimming!

But there are always exceptions. And most favourably they do not come from us humans, and especially not from the Sunday Cretans with their over-tuned cars coming to Lake Kournas. (Our best human experience there was a Sunday Cretan hitting his car's customized front-spoiler to a bump along the way to the lake!)
The exceptions come from the animals.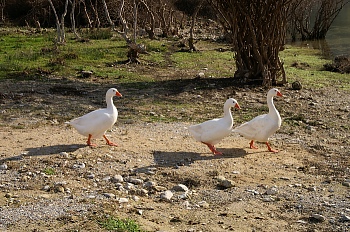 These three white, proud birds started a walk...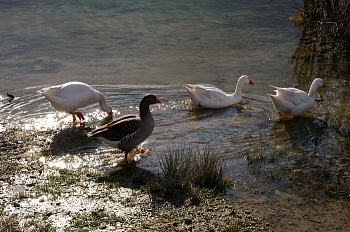 ...followed by one with multi-colour...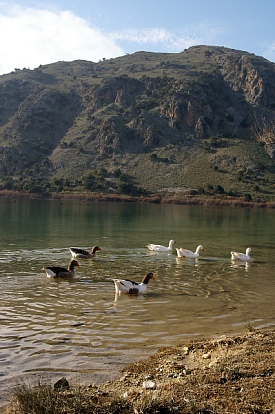 ...and after a while there were even numbers of all the colourings swimming happily in the lake.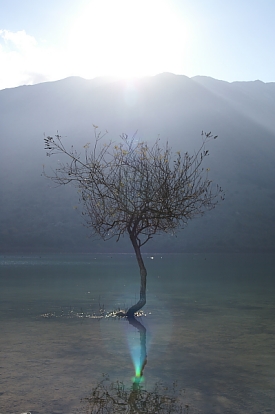 Sometimes cameras have a keener eye than we humans. We believe the actual spot of the spring below Lake Kournas lies exactly at the root of this tree. (If you don't believe, just click the picture to get a better look!)

The village of Kournas is some 5 km away from the over-turisty lake. A winding road going higher up the mountainside takes you there.

It is a surprisingly large village, with many tavernas giving the air a scent of their grills on a Sunday.

But we found this wall...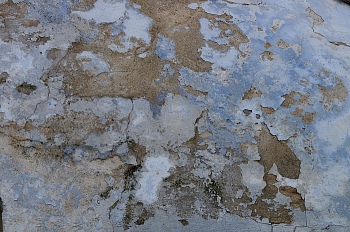 ...with a map of the world on it.

Taking a broader perspective, it became this building...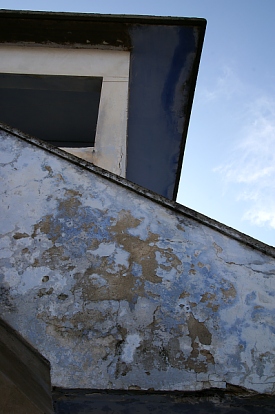 ...with the revelation behind the corner.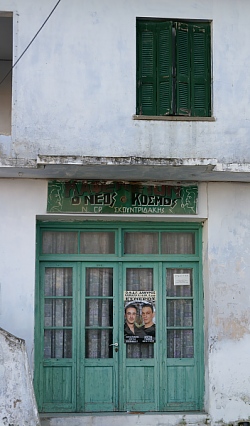 Ofcourse a map of the world is behind the corner, because the front of the building houses
"O NEOS KOSMOS" - The New Cosmos!

[ If you see only this frame, click here to see the complete diary ]