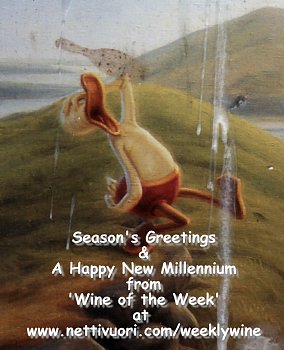 To Greet You
I Must Tell You
This
This lucky Donald Duck by Kai Stenvall is now my own creation because the drop of my wine that hit Donald's elbow made a perfect bottle. And that's an accident governed by providence. Like the wines that have hit me during these 3+ years with 'Wine of the Week'.
But the true story lies in the stearine on the picture. - Those white lines and droppings are from numerous candles that stood on top of 'Chateau Carras 1977' with this picture leaning against the bottle. And 'Chateau Carras 1977' is the wine that made a difference for me.
It was a deep-dark, pitch-black, night on Thassos, Greece, in 1989. There was 'amor' in the air, and we were sitting by one of the open-air tables of this restaurant by the harbour. We had dined elsewhere, so there was just the expectancy of luxury to be awaited for. And that happened. The young man who took our order of wine just disappeared, and I was nervous about my selection. I don't know why the 12 year-old red with a French name sounded intriquing in Thassos, Greece. It was not the most expensive wine on the list, just the second runner-up - and I was trying to make an impression on my dearest loved-one.
What happened next was that the owner of the restaurant emerged from his familiar cellar with a bottle in his hand. Our first 'Chateau Carras 1977', and his last. - I could see the personal esteem that he had for the bottle, and I could hear his words, though blurred by my blinding sensations of my 'amor', saying: 'You like good wine?'
So, when you are in love, and a perfect wine is served to you with respect - then you are hooked. And we were, and are. Especially with the reinforcing force of 'Zorbas Taverna' on the same island of Thassos. They had 'Grande Reserva Boutari'.
Happy Seasoning
And
As Many Years As You Wish!
-Hannu
Wine of the Week