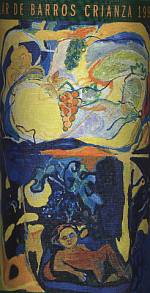 ART WINE 1999
Label by
Cris af Enehielm

Texts & visuals
©Hannu
Lehmusvuori


Karviaiset saavat jo sinällään karvani koholleen, tuntemaan miten autonominen hermojärjestelmä ottaa vallan. Rakastan tuota tajunnan täysin syrjäyttävää tunnetta ja fyysistä reaktiota, joka saa ihon tuntumaan sekä jäätävältä että polttavan kuumalta, ja kutittaa.

Olisi autuasta olla tuossa tilassa jatkuvasti. Kuin häntä, joka heiluttaa koiraa, ja kuin koira joka pitää heiluvasta hännästä. - Tarvittaisiin vain maaliin kastettu suti hännässä, tai koiran omat karvat hännän päässä, kangas ja kutittava käsi lisäämään hännän viuhdontaa, että automaattimaalaus, alitajunta, alkaisi aluksi aavistellen, kohta kihelmöivästi kiihdyttäen ja lopuksi nautinnollisesti naukkaillen paiskoa pensseliä pergamentille, värisyttää väriä ja...

Aivan melkein Lar de Barrosin maanläheisyydessä onkin karvat nostattava voima. Syvä värikylläisyys, paksu nenäaistimus, ja viinillinen karviainen. Sivuilta rouhiva, keskeltä pehmeä. Viipyilevä. Autonominen. Sama antava nautinto kuin koirallani, joka syksyllä nousee takajaloilleen karviaispensaan juurella ja syö marjoja suoraan pensaasta.

Dionysoksen härnäävä kierto tuntuu löytyneen täman vuoden TAIDEVIINISSÄ; maussa ja näössä.
Gooseberries are enough to give me goosepimples, and make me experience the power of the autonomous nervous system. I love that feeling when the total subconsciousness, and physical reaction, makes my skin icy, burning and tickling at the same time.

It would be blissful to be always in that state. Like the tail that wags the dog, and the dog that loves the wagging. - One would need only a brush, dipped in paint, in that tail, or the dog's own hair at the end of the tail, a canvas and a tickling hand speedying up the wags to give automatic painting, the subconscious, that tiny thrust, soon a stimulating stichometry, and finally a delirious delight in pushing paint on the pergament to convulse colour, and...

Almost there is Lar de Barros in its earthly, nearly goosepimpling force. With its deep, saturated colour, thick nose, and the wineous gooseberry. Grinding on the edges, soft in the middle. Lingering. Autonomous. With the same full, animal satisfaction my dog gets in the fall when she rises on her hind legs beside a gooseberry to eat the berries straight from the bush.

The titilating circles of Dionysos seem to have been found in this year's ART WINE; in taste and in looks.