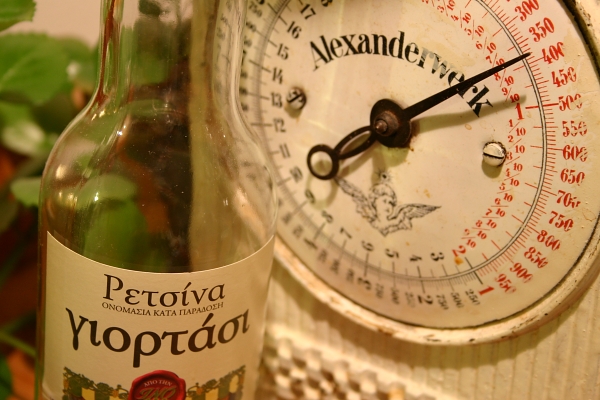 Taken with Canon EOS 300D Kit (full zoom & aperture wide open)
One's Habits
Weigh A Bit
RETSINA
Thira, (H)Ellas (Crete)
Greece
0.90 EUR - 500 ml, Alc. vol. 11,5%
One has to
cut, carve, slice & shave thins of cold-smoked salmon. Yes, one has to! To enjoy the lighter side of a table, in the beginning of a sit-around around a christmas table. And one has to have light, toasted bread smeared with butter, and smeared with fresh salmon roe whipped into creme-fraiche seasoned with thinly chopped onion, white pepper & a hint of vinegar.

And then one has to
have a bottle of this soft, fresh white at arm's length to each and everyone around the table. To toast the meat of the thinly sliced salmon, to greet the toast topped with butter and the roe.

Later on
one is free to indulge in the sanctification of the blessed swine...

This is how
I still envision a treat from a time just a bit past - with bits weighing a bit, out of habit.


-Hannu
January 3, 2004

ANOTHER NEW & YOUTHFUL BAND
called KOLINA
Playing
"Kesän jälkeen kevät"
Music of the Week:
Kesän jälkeen kevät (.mp3) <-CLICK wisely to HEAR
Turn your volume knob to the south-east!
Eli botikat kaakkoon!
©KOLINA - more enjoyment on their homepage.

---
If your heart is warm with happiness, you'll need a glass -
if sorrow chills your heart, have two!

---
"Avidly testing reasonably priced wine with a view and a vision in mind."



(c) Lassi


---
Designed for 800*600 to 1024*768 resolution and 24 to 32 bit colors.
Optimised for Netscape 4 and Explorer 4 (or newer).
WINE OF THE WEEK
http://www.lehmusvuori.net/nv/weeklywine
http://www.lehmusvuori.net/nv/viikonviini
© Hannu Lehmusvuori

wine wine wine viini viini viini viini wine wine wine red wine red wine red wine wine of the week wine of the week wine of the week viini viini viini viini punaviini punaviini punaviini viikon viini viikon viini viikon viini wine wine wine red wine red wine red wine wine of the week wine of the week wine of the week viini viini viini viini punaviini punaviini punaviini viikon viini viikon viini viikon viini wine wine wine red wine red wine red wine wine of the week wine of the week wine of the week viini viini viini viini punaviini punaviini punaviini viikon viini viikon viini viikon viini wine wine wine red wine red wine red wine wine of the week wine of the week wine of the week viini viini viini viini punaviini punaviini punaviini viikon viini viikon viini viikon viini wine wine wine red wine red wine red wine wine of the week wine of the week wine of the week viini viini viini viini punaviini punaviini punaviini viikon viini viikon viini viikon viini midi midi midi java java java animaatio animaatio animaatio animation animation animation gif gif gif digital digital digital digitaalinen digitaalinen digitaalinen photo photo photo photo manipulation manipulation manipulation kuvan kuvan kuvan kuvan kuva kuva kuva valokuva valokuva valokuva käsittely käsittely käsittely käsittely midi midi midi java java java animaatio animaatio animaatio animation animation animation gif gif gif digital digital digital digitaalinen digitaalinen digitaalinen photo photo photo photo manipulation manipulation manipulation kuvan kuvan kuvan kuvan kuva kuva kuva valokuva valokuva valokuva käsittely käsittely käsittely käsittely midi midi midi java java java animaatio animaatio animaatio animation animation animation gif gif gif digital digital digital digitaalinen digitaalinen digitaalinen photo photo photo photo manipulation manipulation manipulation kuvan kuvan kuvan kuvan kuva kuva kuva valokuva valokuva valokuva käsittely käsittely käsittely käsittely midi midi midi java java java animaatio animaatio animaatio animation animation animation gif gif gif digital digital digital digitaalinen digitaalinen digitaalinen photo photo photo photo manipulation manipulation manipulation kuvan kuvan kuvan kuvan kuva kuva kuva valokuva valokuva valokuva käsittely käsittely käsittely käsittely viini viini viini viini viini viini viini viini viini viini viini viini viini viini viini viini viini viini viini viini viini viini viini viini viini viini viini viini viini viini viini viini viini viini viini viini viini viini wine wine wine viini wine wine wine viini wine wine wine viini wine wine wine viini wine wine wine white wine valkoviini white wine valkoviini white wine valkoviini white wine valkoviini white wine valkoviini white wine valkoviini white wine valkoviini white wine valkoviini white wine valkoviini white wine valkoviini white wine valkoviini white wine valkoviini viini viini viini viini viini viini viini viini