From Oct. 28, 2006 till next entry

This is the third little peek into our abode...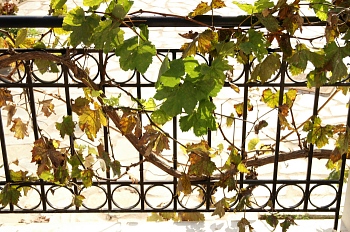 From Agia Sofia we drove on to the very tiny "village" of Milia where there are only half a dozen buildings. They are situated on the slope of an extaordinary gorge and all of them are made of stone in this style. (Picture below.)
One of the buildings houses a very well-known taverna. That alone is a good reason to take the dangerous mountain road to Milia. Never miss a chance to go there when on Crete.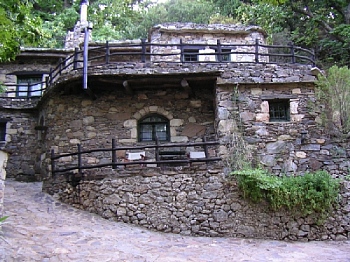 Sunday, Oct. 29, 2006
A trip to show Lassi and Silja how Almirida was damaged after the storm, and to see our previous abode in Plaka, and other small villages in the Apokoronas area. A very nice luncheon in Gavalochori, in a taverna wonderfully built under trees and vines. Mostly Greek families, some with four generations enjoying a Sunday meal together.

Because it was a sunny and warm day, we headed towards Ombrosgialos for a swim. Unfortunately, or fortunately actually, our memory failed us. The great beach we thought would await us in Ombrosgialos was a very small and picturesque but very stony harbour with just one (apparently very popular) taverna with a sense of humour.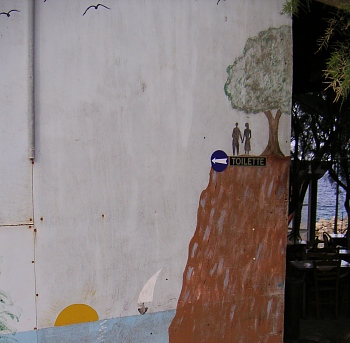 To have the great swim we should have gone a bit furter to Georgioupoli. Well, instead we saw also this funny edifice in Ombrosgialos.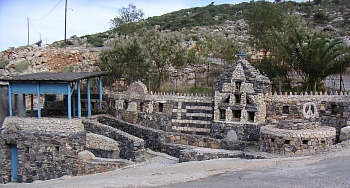 In the evening we had a great supper in Taverna Kritiko in Kalyves. More about it in the Wine of the Week entry on ENOTRIA

Friday, Nov. 3, 2006
Nikos invited us all to his house to have supper before the end of Lassi's and Silja's vacation. As one might expect from a restaurant professional, the meal consisted of several delicious Cretan delights. One of the very interesting entries was a strongly spiced salad based on wild asparagus.
We spent a wonderful evening of food, wine, specially spiced raki, and conversations with Nikos and his son - and their speaking and whistling parrot. You may guess the name of their parrot from the next sentence? So, thank you Nikos (two times over) and Kostas for your hospitality and the excellent supper!

Saturday, Nov. 4, 2006
Lassi's birthday! To celebrate it Lefka Ori showed it's new snow in the morning after a rainy night.
At dinner lambchoppological studies and Kiti's traditional dessert (handed down by her mother) called "surprise-surprise".
George, our taxi-man, picked up Lassi and Silja in the early evening and drove them to Souda to catch a boat to Athens (and from there a plane to Helsinki).





Sunday, Nov. 5, 2006
Can't help it, but our abode has been quite a bit less lively and active since they left. Miss you!

Went for a walk with our guardians, Ida & Milli. And the usual route offered us some free oranges, freshly, ripely fallen from trees. Kiti is now making some juice out of them, for us to enjoy in the morning.

It's close to mid-night on Nov. 5, the moon is full in a clear sky. So, we hope for a warm day tomorrow.

Saw Nikos in Gero Platanos earlier in the evening. Lots of people inside watching an important game of Greek football!

[ If you see only this frame, click here to see the complete diary ]